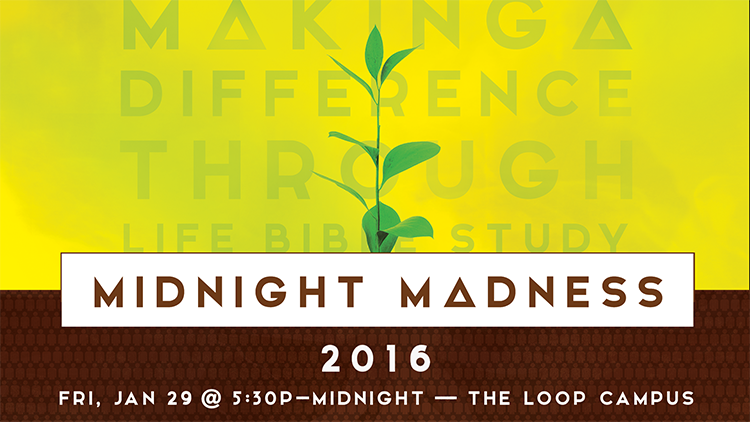 Midnight Madness 2016
Fri, Jan 29 @ 5:30p–Midnight — The Loop (Fitness & Recreation Center)
"Mission:" noun, an important assignment carried out for political, religious, or commercial purposes, typically involving travel
While "mission" often involves travel and going, Christ's mission always involves being His hands and feet right where you are. At Midnight Madness, learn how Life Bible Study is a critical part of the mission of Christ in our world today and how you can be more effective as a missionary right here in Houston, Texas.
Midnight Madness is our annual Life Bible Study leadership training. We take leadership training very seriously and offer monthly leadership meetings, Milestones classes, Age Division training and individual training opportunities but Midnight Madness is our premier leadership training for all age groups annually. It is the one time we come together as leaders from all age groups and all leadership positions to sharpen our focus on the purpose and role of Life Bible Study and specifically focus on how each leader can serve in their role with excellence.
Current and prospective Life Bible Study leaders from each Houston's First campus will gather for this annual equipping event for great training, inspiring vision, fantastic giveaways, interactive fun — and food, of course!
Schedule
| | |
| --- | --- |
| 5:30p | Dinner |
| 6:45p | Welcome in Worship Center |
| 8p | Session 1 |
| 9–9:15p | Break |
| 9:15p | Session 2 |
| 10:15–10:30p | Break |
| 10:30p | Session 3 |
| 11:30p | Final Group Celebration |
Midnight Madness 2016 Handbook
---
Breakout Sessions
There are sessions for every type of leader and interest at Midnight Madness. With three breakout sessions, you have three opportunities to learn about leadership. Plan your night using the list of sessions below.
start here for adding code
Adult Sessions
Select a category to see sessions for that topic:
All Sessions General Director Teacher Grow Group Leader Prospective Leader Mentoring Gather Grow Give Support Targeted Group
Room
Breakout Session 1

8-9p

Breakout Session 2

9:15-10:15p

Breakout Session 3

10:30-11:30p

Reception Rm
The Place of Evangelism in Life Bible Study

Dr. David Self


Teacher Director
Adult Bible Teaching 101: Teacher Training Basics

Jeff Young


Teacher Director
Teaching Beyond Sunday: Why Relationships Matter

Jeff Young


Teacher General
Rm 143
The 5 Key Parts of a Lesson Plan

Jack Terry


Teacher Grow
Organizing Your Class to Minister

Jack Terry


Director Teacher Give
Developing a Life-Changing LBS

Jack Terry


Director Teacher Grow
Connection Ctr
Hospitality 101: Becoming a Warm and Welcoming Class

Edd and Nina Hendee


General Director Gather
Hospitality 101: Becoming a Warm and Welcoming Class

Edd and Nina Hendee


General Director Gather
Telling Our Stories: The Power of Our Testimonies

Steven Murray


General Director
Rm 145
Effectively Using Arena (Rolls/Rosters)

Blenda Cox


Support
Effectively Using Arena (Rolls/Rosters)

Blenda Cox


Support
Help Wanted: Being a LBS that Serves

Jonathan Huegel


Give Director
Fellowship Ctr A/B
Preparing Your Heart to Teach

Bryan Butler


Teacher
Becoming a Leader of Influence

Bryan Butler


Director Teacher General
Preparing Your Heart to Teach

Bryan Butler


Teacher
Fellowship Ctr C
Understand the Best Way to Share the Gospel with Those of a Different Worldview

Sally Hinzie


General Give
The Importance of Class Involvement in Teaching

Dr. Bruce Fong


Teacher
The Importance of Class Involvement in Teaching

Dr. Bruce Fong


Teacher
Fellowship Ctr D
Best Director: Learning to Balance Leadership and Life

David Lorenz


Director General
How to Save a Life (YOURS): Principles for Effective Leadership

David Lorenz


Director New/Potential Leader
Let's Talk: Transforming Lives Through Discussion; It's MORE than Information

David Lorenz


Teacher Grow
Garden Rm
Hello, My Name is...Learning the Art of Integrating Folks into your LBS

Andy Jennings


Gather Support Grow
Teach, Don't Preach: Developing Teaching Skills That Empower and Change Lives

Andy Jennings


Teacher
Connecting and Reaching Millennials

Any Jennings


Targeted Group
Rm 249
Building a Bridge, One Step at a Time Through Social Events

Randy Davis


Gather Give Director
Everyone Makes a Difference: How to Move Your LBS Member From a Taker to a Giver

Randy Davis


General Give
Prayerfully Powerful: Connecting Private Prayer Life to Your LBS

Randy Davis


Director Teacher Give
Rm 252
Using Technology - Multimedia/Social Media/Website

Brady Holt


General Support
Using Technology - Multimedia/Social Media/Website

Brady Holt


General Support
Foundational: The Why /Purpose of Life Bible Study

Ben Pritchett


Director General New/Potential Leader
Rm 253
Overcoming Obstacles and Barriers: Developing Leadership in the 21st Century

Denny Autrey


General
Why Mentor Men? Come and Learn the Value of Mentoring Men

Denny Autrey


Mentoring Targeted Group
Reaching Men for Christ

Denny Autrey


Targeted Group Grow
Rm 254
Finding the Right Resources for the Best Mentoring Relationships

Roy and Margaret Fitzwater


Mentoring Grow
Sharpening Your Leadership Through the Practice of Sabbath

Roy and Margaret Fitzwater


General
The Word Has It: Using Scripture in Mentoring

Roy and Margaret Fitzwater


Mentoring Grow
Rm 257
Grow Groups 202: Understanding/Helping the Difficult Person in Your Grow Group

Greg Curnutte


Grow Group Leader Grow
Grow Groups 201: Creating a Grace-Centered Community Where Healing Can Happen

Greg Curnutte


Grow Group Leader Grow
Grow Groups 202: Understanding/Helping the Difficult Person in Your Grow Group

Greg Curnutte


Grow Group Leader Grow
Rm 258
Grow Group 101: Foundations for Discipleship

Sherrie Brown and Kyle McLeod


Grow Group Leader New/Potential Leader
Grow Leader 101: Starting Point for All Leaders

Sherrie Brown and Kyle McLeod


Grow New/Potential Leader
Grow Group 101: Foundations for Discipleship

Sherrie Brown and Kyle McLeod


Grow Group Leader New/Potential Leader
Rm 262
Cultivating a Vision for Multiplication of Your LBS

Mike and Brandi Cabiro


Director Teacher New/Potential Leader
Cultivating a Vision for Multiplication of Your LBS

Mike and Brandi Cabiro


Director Teacher New/Potential Leader
Grow Group 301: Round Table Discussion

Eric Reed and Carolyn O'Neal


Grow Group Leader
Rm 263
The Why and How of Ministering to a Single Parent Family

Jennifer Maggio


Targeted Group
The 10 Best Practices of Ministering to a Single Parent Family

Jennifer Maggio


Targeted Group
Staying Healthy in the Ministry Fight

Jennifer Maggio


General
Rm 270
Handling Ministry Needs in Your Class

Rick & Peggy Jones


Give
Handling Ministry Needs in Your Class

Rick & Peggy Jones


Give
Give Leaders 101: Helping Your Class Give Life Away

Adam Robertson and Chris Hawkinson


Give
Rm 274
Reaching People through Life Bible Study

Rick Ray


General Gather Give
Identifying Ways to Connect With People

Rick Ray


Director General Gather
Reaching People through Life Bible Study

Rick Ray


General Gather Give
Rm 179
Foundational: The Why/Purpose of Life Bible Study

Ben Pritchett


Director General New Leader
Your Role as Outreach Director

Wendy Dewlen


Gather Support
The Outreach Continuum-Outreach and Inreach in Adult Life Bible Study

Wendy Dewlen


Gather Support
Rm 180
Transformational Ministry Through Life Bible Study

Tim Young


Teacher Director Grow
The End Game-Short & Long Term Goals

Tim Young


Director Teacher
Transformational Ministry Through Life Bible Study

Tim Young


Teacher Director Grow
NextGen Sessions
All Sessions Preschool Children Students

Room
Breakout Session 1

8-9p

Breakout Session 2

9:15-10:15p

Breakout Session 3

10:30-11:30p

Rehearsal Hall (Rm 230)
Fighting for Your Family and the Families You Serve

Ron Hunter


All Audiences
Heartland
What Better Place to Start!

Ann Edwards


Teacher of Babies-2s
Not Just Babysitting!

Ann Edwards


Preschool Teacher
Choir Rehearsal Hall
How to Connect With All Children

Mark Jones


Teacher of 3s-K
Committed Teacher are Differencemakers

Mark Jones


Preschool Teacher
Rm 209c
Bringing the Bible to Life

Sondra Williamson


Preschool Teacher
Rm 210b
Being Intentional with Babies

Jacque Killingsworth


Preschool Teacher
Rm 210c
Learning to Love your Calling

Tonya Nelson


Preschool Teacher
Rm 301
30 Seconds: The Most Critical Window in Connecting with the Family

Jeffrey Reed


Director Support Teacher
30 Seconds: The Most Critical Window in Connecting with the Family

Jeffrey Reed


Director Support Teacher
Rm 303
The Art of Story

Melissa J. MacDonald


Director Support Teacher
Calling the Next Generation to be World-Changers

Melissa J. MacDonald


Director Support Teacher
Rm 332 A&B
If Only I Had a Brain: Brain-Based Learning for Your LBS Classroom

Bridget Hughes


Director Support Teacher
If Only I Had a Brain: Brain-Based Learning for Your LBS Classroom

Bridget Hughes


Director Support Teacher
Rm 334
Getting Passed the Ear Buds: Helping Parents With Conversations that Matter

Ron Hunter


Director Support Teacher
Connecting with Parents

Ron Hunter


Teacher
Rm 362
Communicating to the Different Personalities in Your Group

Kraig Kelsey


Grow
Communicating to the Different Personalities in Your Group

Kraig Kelsey


Grow
Rm 363
Building Relational Equity

Brian Mills


Grow
Building Relational Equity

Brian Mills


Grow