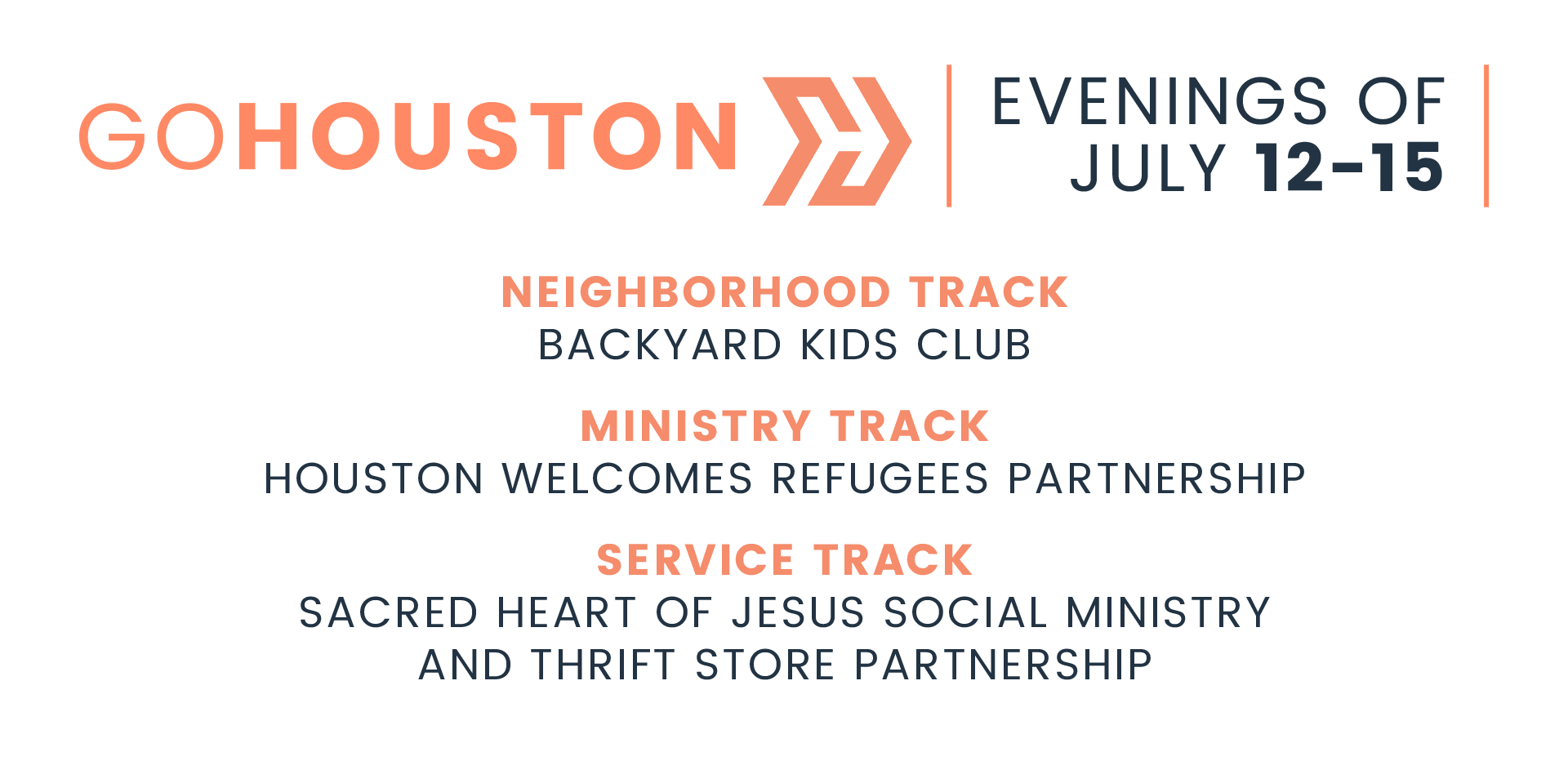 Key Dates
May 2 — Registration Begins
July 1 — Deadline for Registration
July 12–15 — GO Houston
---
Neighborhood Track
Backyard Kids Club — Neighborhood Track will encourage families to host Backyard Kids Clubs in their neighborhood. Each family is encouraged to invite one or two neighbors to participate with them. We will have Vacation Bible School supply kits that will include everything needed for your very own At-Home VBS with your registration. You are welcome to request as many kits as you would like - feel free to invite a neighbor or two or the entire street! As a reminder - the week of GO Houston is meant to be the start (or a continuation) of relationships with your neighbors. When the week is over, the ministry continues! Keep in contact with the people you meet during the week, invite others over for dinner or coffee, invite people to church — and continue to pray for your neighborhood!

Ministry Track
Houston Welcomes Refugees — God is bringing the nations to H-Town. During this track, you and your family will learn about all the ways "HWR" ministers to refugee families when they arrive in Houston from all over the world. We will also be collecting and packing kits to help these families meet physical needs they have as they transition into our communities. This site is a great option for families with elementary age & older children.

Service Track
Renew / Rebuild — Partner with us as we go out to our community to serve. We are finalizing the details for this Service Track and will update you soon. This track could include power washing, painting, landscaping and other jobs that get your hands dirty. This is a great track for individuals who like to "Get the Job Done!" This year we are partnering with Sacred Heart of Jesus Social Ministry and Thrift Store.
Cost & Registration
Registration is $15 (free for ages 10 and younger)
Deadline to register and fill out documents is by the end of day July 1, 2021.
NOTE: As part of Houston's First Baptist Church's Child Protection Policy (CPP), GO Houston team members who are placed on a team serving with minors are required to have a completed or updated NextGen Application on file with the church. Upon registration, you will receive additional information from the church about any next steps you might need to take.