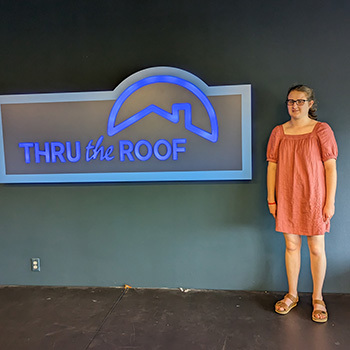 It's said that going to the gym and living a healthy lifestyle results in positive benefits, but for Louie & Cherie Ruffino, a routine trip to the Fitness & Recreation Center (FRC) at Houston's First in 2018 ended up providing them with so much more than just a good workout.
Prior to heading home from the FRC, Louie struck up a conversation with the front desk attendant about different ministries at Houston's First. It was there that he first heard about Thru the Roof — a ministry of Houston's First for individuals with special needs and their families. Louie & Cherie's daughter Chloe had been struggling with finding a church home that welcomed and supported her and her special needs, so upon hearing about Thru the Roof, the Ruffinos decided to give it a try.
"After hearing about Thru the Roof, we called and spoke to Daniel Williams, Minister to Special Needs Families at Houston's First," says Cherie. "With open arms, he and his staff welcomed Chloe into the community. It was beautiful for us as parents because this is what we had prayed for. It was as if God knew what we needed and led us to Houston's First."
Since 2018, Chloe has been a constant presence at Thru the Roof each Sunday and Wednesday and has benefited greatly from the Bible lessons, friendships, and the fun events put on by the ministry. The entire Ruffino family has been blessed by this community and the opportunity to attend church together.
"Cherie and Louie visited with Chloe because we allowed her to bring her service dog. But from that first visit they quickly became an integral part of the TTR community," says Daniel. "They're encouraging and so supportive of our special friends and their families. And we call Chloe our "recruiter-in-chief" since she tells everyone they ought to check out Thru the Roof. They are such a blessing to know."
Earlier this year, Louie & Cherie were going to be out of town one Sunday and made arrangements for a family friend to pick Chloe up from Thru the Roof. While walking out of the building, Chloe was greeted by name by four individuals as to whom she was with and whether or not she was safe.
"Chloe's interactions were exactly what any mother and father would want," says Cherie. "She was questioned by staff members and her church community about who she was with and how she was getting home that day. One of those individuals was the police officer at the crosswalk to get to the parking lot. These concerns raised by members of Houston's First reassured us and our friends who were picking Chloe up that day of just how blessed our family is to be a special part of this church community."
---
A Culture That Cares
Experiences like Chloe's illustrate how Houston's First aims to welcome our friends with special needs well while providing a safe space for them to experience the love of God and a community that truly cares. Our children, youth, and special needs adults (CYSNA) protection policy ensures that the most vulnerable individuals within our church population receive the highest level of care and protection.