What comes to mind when you think of achieving results in the gym? A slimmer waistline? A more active life? For one member of the Fitness & Recreation Center (FRC) at The Loop Campus of Houston's First the results were both physical and spiritual.
After trying several gyms and experiencing unwelcome treatment, Lovely Washington made her way to the FRC in May of 2021. Being legally blind, Lovely was searching for a safe facility with caring staff who could help her achieve her goals.
"At the past locations where I would workout, I was being bullied and harassed," says Lovely. "The Lord opened the door for me to come and workout at Houston's First…The staff at the FRC are so professional, loving, and caring. They totally care about my physical health and they care about me as an individual."
Through a personalized onboarding process, the staff at the FRC came up with a plan to help Lovely achieve her goals and get acclimated. The FRC's Start Smart program enabled Lovely to meet with a trainer over a period of six weeks to discuss her personal fitness needs and goals, learn the layout of the FRC, and try some Group X fitness classes.
"They gave me a tour of the locker room and also prayed for me and gave me words of encouragement," says Lovely. "I like running, cardio, and weight training. They helped me with my form on weight training and showed me how to keep my wrists straight. It went from guided exercises to self-guided. I was able to have 1-1 personal training and was able to do some Pilates and strength-training classes."
Debbie Brown, the Associate Director of Fitness and Recreation at Houston's First, got to know Lovely well through these training sessions and Group X classes.
"When I met Lovely, I was immediately drawn to her determination and gratitude," says Debbie. "She was so eager and excited to begin her fitness journey at Houston's First. She was very educated on the benefits of regular exercise and the importance of staying active and maintaining a healthy weight. She was not on the right track and needed help. It was my joy to come alongside Lovely and get her started. On a spiritual level, God was using Lovely to gently encourage others even without speaking a word — they were witnessing a woman with a disability who was not hindered in any way."
To Lovely, the most important relationship in her life is her relationship with Jesus Christ. The Lord used the FRC and the staff there to help her heal and rebuild after a period of traumatic experiences and depression. Motivated by her life experiences, she advocates for those with disabilities in the hopes that one day, resources and help would be more easily accessible.
"People with disabilities are real people encountering real problems with real circumstances," says Lovely. "God is faithful and my faith in Jesus Christ has sustained me through this trial. I want other people to be encouraged through their trials. What I've experienced is not just a fitness journey, but a spiritual fitness journey."
Lovely shared about her fitness journey in a video posted to the Fitness & Recreation Center's Facebook page on January 13, 2022. You can hear her share it here.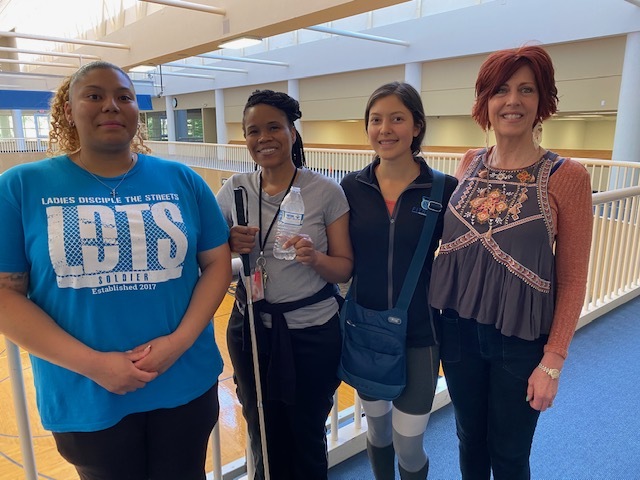 Pictured L-R: Mariah Maverick, Lovely Washington, Victoria Fisher, Debbie Brown