In 2018, Legacy 685, the adoption, foster, and orphan care ministry at Houston's First, celebrated 10 years by launching two ministry locations – our Cypress and Sienna Campuses. This year, they are celebrating giving over 200 adoption assistance grants – making a way for over 200 children to be placed in their "forever family." Many of the families are featured in the slideshow above.
Through Legacy 685, Houston's First established the Adoption Assistance Fund in response to the overwhelming financial hurdles that often come with adoption and the desire to help as many children experience the joy of a "forever family" as our collective resources will allow. Through the fund administrator, Lifesong for Orphans, Legacy 685 is able to offer direct grants, matching grants, and/or interest free loans to applicants who meet the established parameters.
"One of the most amazing things that our staff gets to see is the petitions for funds coming in and the unsolicited funds coming in almost in a perfect match," says Legacy 685 Director Toni Steere. "With a fund like this and so much need, it would be easy to want to control it, grow it, and micromanage it. But if there is one thing that God has taught me both personally and professionally through this fund is that we can't out-give God!" (See an interview with Toni below.)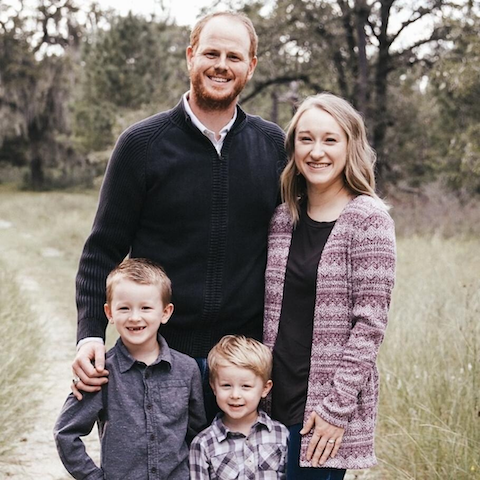 The 200th adoption assistance grant was awarded to the Townsend family from Kountze, Texas. Matthew and Rachel Townsend have two sons, Tobyn and Noah, and are currently going through the international adoption process to adopt a baby boy from South Korea.
"Adoption has been on our hearts for as long as we can remember. I was adopted and know the blessings and hardships that come with it personally. It's something we always were "for," just never knew if we would choose to grow our family through adoption," Rachel explains. "We had our two biological children and had no plans to have any more until a fall day in 2017. I was sitting there watching the kids play and was suddenly struck with the thought of adoption. I knew at that moment God was asking us to consider it. So we did. We prayed, thought, and sought counsel about adopting for a month. At the end of that month our hearts had come into full agreement, we wanted to adopt a child and make them a forever loved member of our family."
Rachel shares what it means to receive this grant for the adoption.
"I am overwhelmed with the recognition of God's faithfulness. Beginning the adoption process can be daunting because the costs can be so expensive. It really does take steps of faith as you trust that God will somehow make a way," Rachel says. "This grant is an answer to prayer, an expression of kingdom work from the body of Christ, and the love and faithfulness of God for His children and for adoption."
Toni shares how God's faithfulness is evident as she reflects on the over 200 adoption assistance awards given to families across the world through the generosity of our church.
"As I reflect and think about the stories that each of these photos, these families, these children represent, I cannot see anything but the faithfulness of God. The Father to the fatherless, the one who knows each name, each need, each desire," says Toni. "He is the one who puts children in families and this whole journey that Legacy 685 and our Adoption Assistance Fund have been on is first and foremost about the faithfulness of God."
Interview with Toni Steere
On Mother's Day (May 10, 2020), Pastor Gregg and Kelly Matte talked with Toni Steere, the director of the Legacy 685 Adoption, Foster, and Orphan Care Ministry, about the impact Legacy 685 has had and how God has shown His faithfulness time and time again.