His newfound ministry manifested in building cars "God-style." Most of the adapted cars Blake saw were quickly put together with little attention given to detail. "My philosophy is the cars be well-built," he said. "We even personalize them with the child's name on Texas license plates." A Houston's First member sewed custom seat covers for one vehicle. "It meant so much to the child's mom," said Blake, "that some lady she didn't even know would take the time."
He ordered six different types of switches to determine which worked best to power the cars. After interviewing robotics specialists, doing online research, and tinkering with microprocessors, Blake invented the Fluid Motion Device, a speed control to accelerate and slow the vehicle to a stop without jerking the child, as is the norm with standard motorized riding toys.
Blake sent the prototype to volunteer researchers at the East Tennessee Technology Center, affiliated with Go Baby Go, and the Fluid Motion Device set them abuzz with excitement. "They told me my device duplicated the motion of a $20,000 powered wheelchair — and I made it for under $100," he said.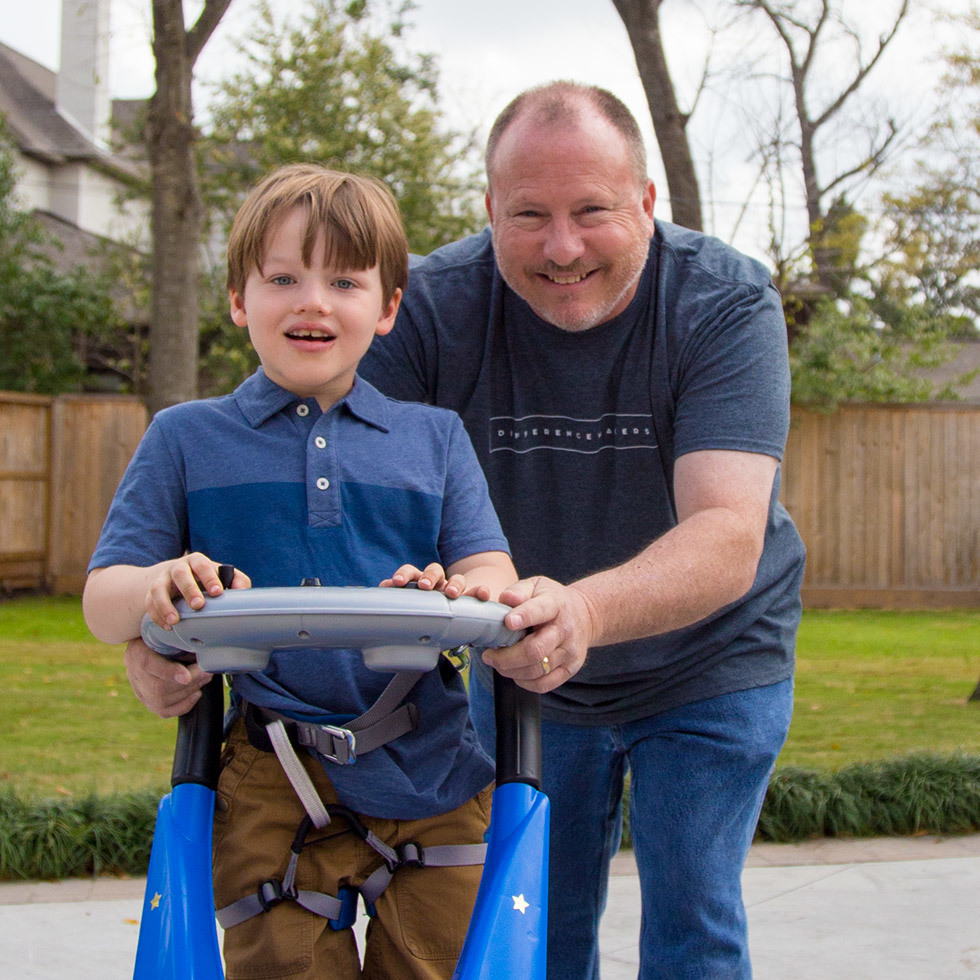 Perhaps most significant about the custom cars is that they are retrofitted to allow each child to drive his or her own vehicle regardless of disability. Some cars also promote rehabilitation by exercising little-used limbs. "They're fun and therapeutic," said Blake. A child who can only move her head received a car that requires her to hold up her head in order to power the car.
Price Stedham, a seven-year-old Houston's First member with undiagnosed developmental delays (right, with parents Kristen & Nathan), was given a "stand-up" vehicle that would encourage him to use his legs. "I adapted a rock climbing harness on it so Price wouldn't fall down," said Blake.
His First Wheels Special Needs Mobility Ministry serves not only children at Houston's First, but also those in the Houston area and throughout the United States.
A young mother from Chicago saw the vehicles on the Thru the Roof Special Needs Ministry Facebook page and contacted ministry founder Denise Briley, the former director, now the ministry's Family Liaison. Denise made the connection between Blake and the woman's one-year-old with spina bifida, who received a tiny Bumbo wheelchair last year. Blake retrofitted a Bumbo Floor Seat with the base of a Dareway Scooter, using the platform as a wheelchair base and adding a long handle that allowed the baby's mom to push her around the house and into tight spaces as well as outdoors.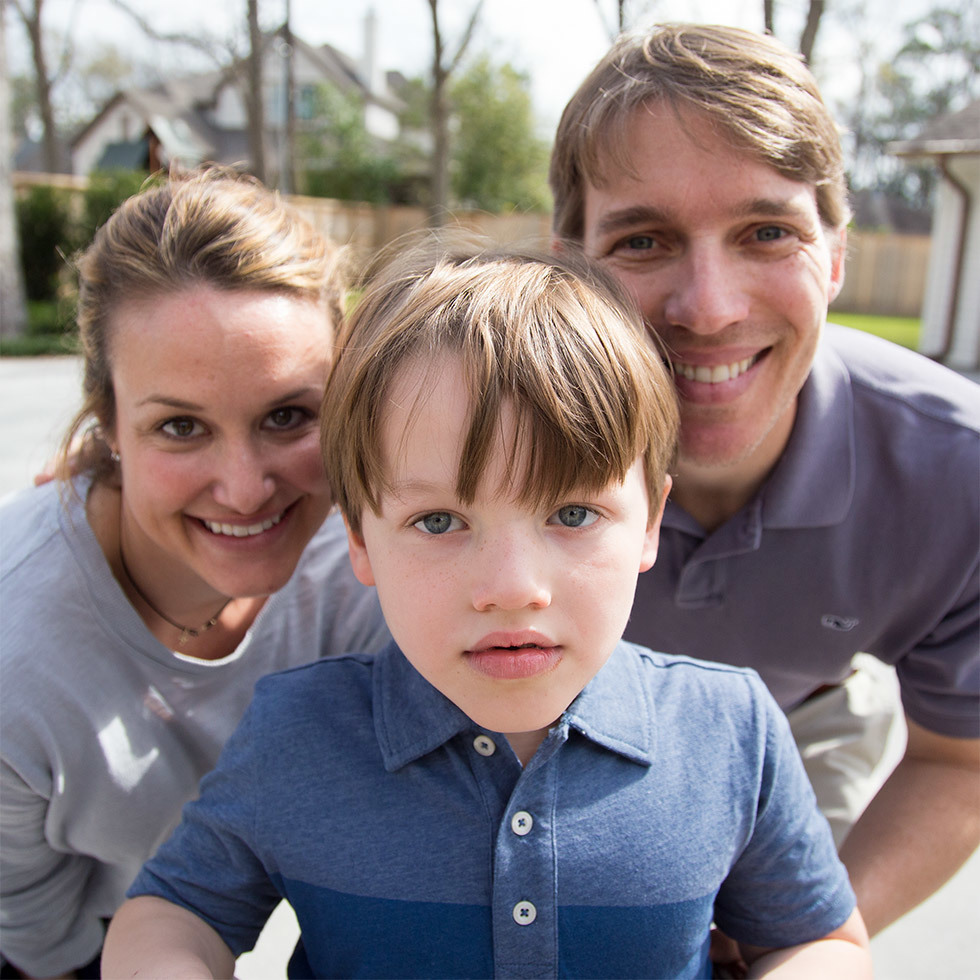 "Blake has become the hands and feet for these kids," said Denise. "He is giving families their dream. By using the incredible gifts God has given him, Blake is giving kids with special needs the mobility that every parent wants their child to have. Now they can keep up with their brothers and sisters."
With spare money from his family budget and a few generous donors, First Wheels has gifted a total of five vehicles to special needs children. Blake says the groundwork has been laid for the ministry now that he has learned how things are done and believes this is just the beginning of First Wheels' ministry of making children with special needs mobile.
"I don't know where it's going to lead," said Blake. "For me, it's all about being obedient to do what God wanted me to do. Everything I ever learned in my life has come together for this."
---
Next Step
The Thru the Roof Special Needs Ministry at the Loop Campus loves, cares for, and welcomes children and adults with special needs into the church fellowship and community. Life Bible Studies, buddies for children, and a well-trained staff of volunteers make Sundays the best day of the week for guests and members alike. For more information on Thru the Roof, visit our Special Needs ministry page.