Hurricane Laura Relief by the Numbers
6 Day Trips • 50 Homes • 131 Volunteers
"When the rains fall, the church rises" — that's what Pastor Gregg Matte stated about our LOVEFIRST disaster relief efforts during the aftermath of Hurricane Harvey. Our church family mobilized several teams to serve our city well. LOVEFIRST disaster relief teams have continued to step out and make a difference near and far in the wake of different hurricanes throughout the years including the recent Hurricane Laura.
Houston's First coordinated relief teams to travel on day trips to Lake Charles, Louisiana, an area devastated by the storm. Missions Executive Assistant Karina Bazaldua shares why she stepped up to lead the first day trip.

"I knew the need for help was pressing. I could imagine how much damage the area had received and just wanted to go and be of help," Bazaldua explains. "The day I went was our first day of deployment, so I really wanted to go assess the damage and see how Houston's First could help in the coming days."
Their primary ministry partner was First Baptist Church of Moss Bluff, located in Lake Charles, and members there were helpful in identifying the needs of the community.

"The Missions Pastor at First Baptist Church of Moss Bluff, Bill Baxby, was great to work with. He assigned us the homes that needed work. We blessed not only church members, but friends, family members, and really anyone that he heard needed help," Bazaldua says.

The primary needs were for debris removal, chainsaw work, and roofing help. The initial focus was to clear fallen limbs, trees, and debris, as well as assisting in tarping damaged roofs.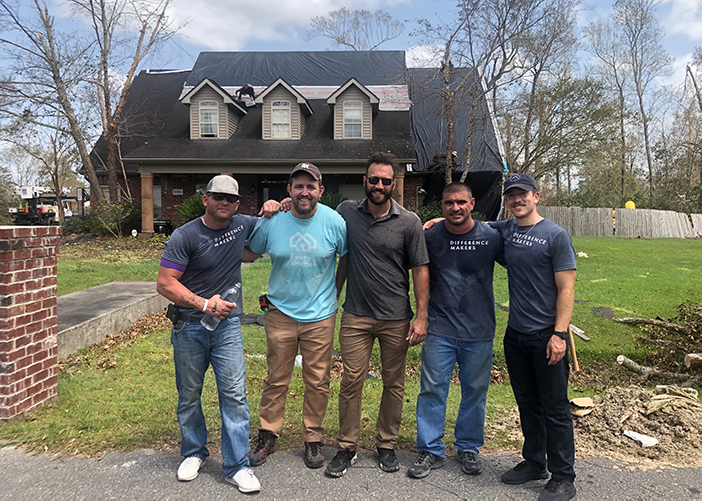 "We worked on two homes that day clearing them of debris from fallen trees. The whole city is very wooded so there are a lot of homes that have multiple big trees. It was a lot of work to clear them. Volunteers would use chainsaws to cut them down and other volunteers would haul them away. We did this all day – there was that much to do just for two homes with a crew of 16 people," Bazaldua says. "In addition, we had a Houston's First member, Wiley Moss, who owns a roofing company, bring his work crew and they were able to tarp the roofs of about 30 homes. They were amazing. They would just work down a street and tarp any roof in need."