Thank you, Dr. David Self!
Executive Pastor Dr. David Self retired from Houston's First at the end of December 2021 after faithfully serving our church for 26 years. On Sun, Dec 26, he delivered his last message as a staff member — titled "These Things I Know" — during the 9:15a and 11a worship services at The Loop Campus and online. Dr. Self was joined by Bonnie (his wife since 1973) and their sons Adam and Tyler and their wives and children for this special day for their family and our church.
About Dr. Self
Dr. David Self has served our church family in various roles throughout his tenure on our staff, beginning as our Minister of Education (1995-2004). While in that role, he also assumed the duties of our Associate Pastor in 1998. When Bro. John Bisagno retired after 30 years as our Senior Pastor, Dr. Self led our church as Interim Administrator (1999-2004) while we searched for a new Senior Pastor. Houston's First experienced continued growth in attendance, membership, giving, and mission trips during that time under his leadership.
When Gregg Matte was called as our Senior Pastor in 2004, Dr. Self transitioned into the role of Executive Pastor that same year — a position he has fulfilled in a godly, effective, and excellent manner over the past 17 years.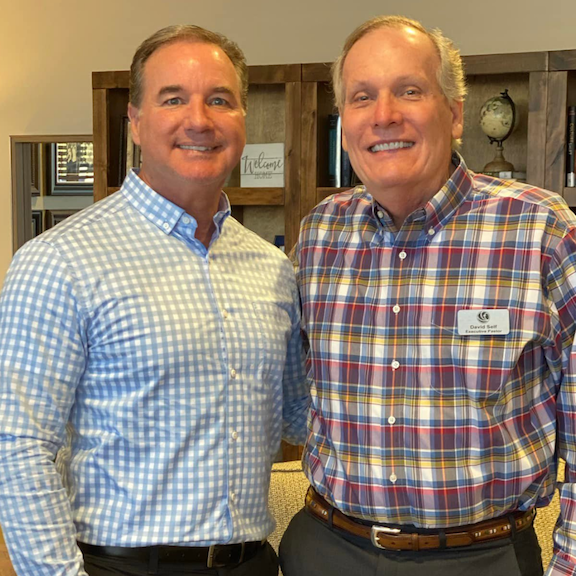 Dr. Stephen Trammell and Dr. David Self Even with a full plate, Dr. Self has used his gifts and passions for the benefit of God's kingdom in other ways, too. Beyond Houston's First, Dr. Self served as a North American Mission Board Trustee (2004-2013) and an Evangelism Explosion International Trustee (2003-present). Here at our church, he continues to teach a Life Bible Study every Sunday. He has also faithfully written and recorded weekly lesson previews for use by our volunteer Life Bible Study teachers throughout the church. In retirement, Dr. Self and Bonnie look forward to still attending The Loop Campus, and he will continue teaching his Life Bible Study, too.
A native of Salisaw, OK — and a proud Sooners fan — Dr. Self is a third-generation minister who first served Houston's First as our Minister of Youth from 1970-1973. After that, the Lord led him to Plymouth Park Baptist Church (Irving, TX), First Southern Baptist Church (Del City, OK), and Rehoboth Baptist Church (Tucker, GA) before bringing him back to Houston's First in 1995. He is a graduate of Houston Baptist University (BA), Southwestern Baptist Theological Seminary (MDiv), and Fuller Theological Seminary (DMin). Capturing wisdom gained from his father, from his own ministry experience, and from Paul's farewell address to the Ephesians, Dr. Self published Church Work Rules! Generational Wisdom for Church Leaders in 2011.
On July 1, 2021, Dr. Stephen Trammell joined the Houston's First staff as our new Executive Pastor. Since that time, he and Dr. Self have been working in tandem to ensure a smooth transition of the role.