As Houstonians continue reveling in the afterglow of the Astros World Series victory, team owner Jim Crane recently treated each member of his organization to diamond-studded Championship rings — and not just the players.
Every Astros employee, including groundskeepers, ushers, and box office personnel, received a ring, and Crane covered the income taxes for each gift. Lucky churchgoers just may see one of the following members sporting their Championship ring in the halls at Houston's First.
Ben Hartman — Groundskeeper (part-time)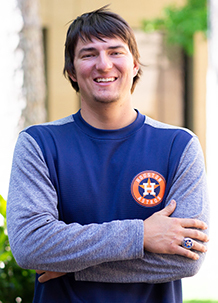 Ben Hartman moved to Houston seven months ago to take an internship with the Astros' Grounds Crew. "Last season I saw the Houston's First sign in right field," said Ben. "I checked out the church and have never looked back." Ben attends both The Loop and Downtown Campuses, depending on his schedule, and is a member of Lighthouse Life Bible Study.
Probably no one was more surprised than Ben to receive his own Championship ring since joining the Astros less than a year ago. In the short time he has been part of the organization, he has grown to appreciate and respect the culture and generosity of Astros management.
"I feel valued as an employee in such a big organization," said Ben. "Reid Ryan (Astros president), Craig Biggio and Jim Crane always take the time to say 'Hi' and ask how you're doing when they see you. That's really cool."
Alex Grigas — Senior Graphic Designer (full-time)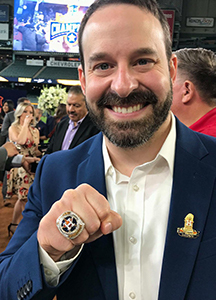 Alex Grigas is a member of Houston's First and has worked for the Astros organization six years. He is responsible for banners, signage and graphics in Minute Maid Park, social media graphics, and graphics for Astros' ad campaigns.
"The thing I enjoy most about working here are the people and the culture the new ownership has created," said Alex. "They really take care of their employees, and you can tell they are always looking for new ways to improve the work environment."
During the aftermath of Hurricane Harvey, the Astros encouraged Alex and other department members to help out as long as they were needed in their communities. "The Astros supported anyone who took time off work to aid in the recovery," he said. "My co-workers and I helped a couple from another church whose house was completely destroyed. We prayed together as a group for the family and others who were affected. I wouldn't have known about that family if I hadn't worked here."
Alex and other Marketing Department personnel recently designated Fridays as "Ring Days," so he is planning to show his Astros spirit by wearing his ring each week. "I was on the float taking photos during the (Championship) parade and noticed the number of signs people were holding that referred to Hurricane Harvey," said Alex. "I believe the Astros helped to take Harvey's devastation off people's minds by bringing their first championship to Houston."
Erta "Leonne" Gervais — Box Office (part-time)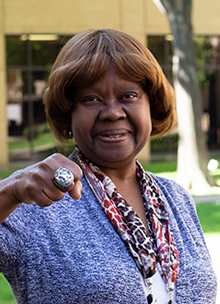 Leonne Gervais began moonlighting in the Astros Tickets and Will Call window after a coworker told her about a part-time opening. Leonne's youngest son was about to start college, so in addition to a second paycheck, she found a "family" in the Astros' Box Office. Over the years, Leonne has been responsible for recruiting several other coworkers.
"My plan was to work here for only one year," said Leonne. "But I am still here 15 years later and enjoying every minute of it."
She is thankful for her boss, Mr. Bill Cannon, whose open door policy for prayer and encouragement has been a godsend to Leonne. "I try to show the love of Christ to all who come to my window," she said.
Leonne has arthritis in her hands and the ring is heavy, but she has been showing it to everyone she possibly can. "Everybody loves it," she said. "People ask lots of questions. Some of them ask me how they can get a job with the Astros."
Patsy Perez — Box Office (part-time)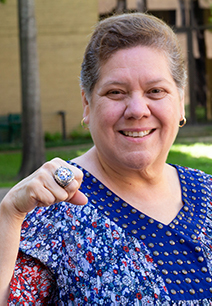 Patsy Perez can usually be found in Will Call window #15 when fans stop by to pick up tickets at Minute Maid Park. Patsy caught the Astros excitement in 2005 when they played the Chicago White Sox in the World Series.
"My dear friend, Leonne Gervais, was already working with the Astros," said Patsy. "I let her know I was interested in working and she put in a good word for me."
Patsy says prayer is not unusual around the box office. "I'm part of a small prayer group that prays for others when asked," she said.
Showing Patsy's friends, family and coworkers her new Championship ring has been a highlight in her job. "It is so beautiful, and I'm very thankful," she said. "Everyone who sees it thinks it's special. It's a great conversation starter."
Wendy Franco — Box Office (part-time)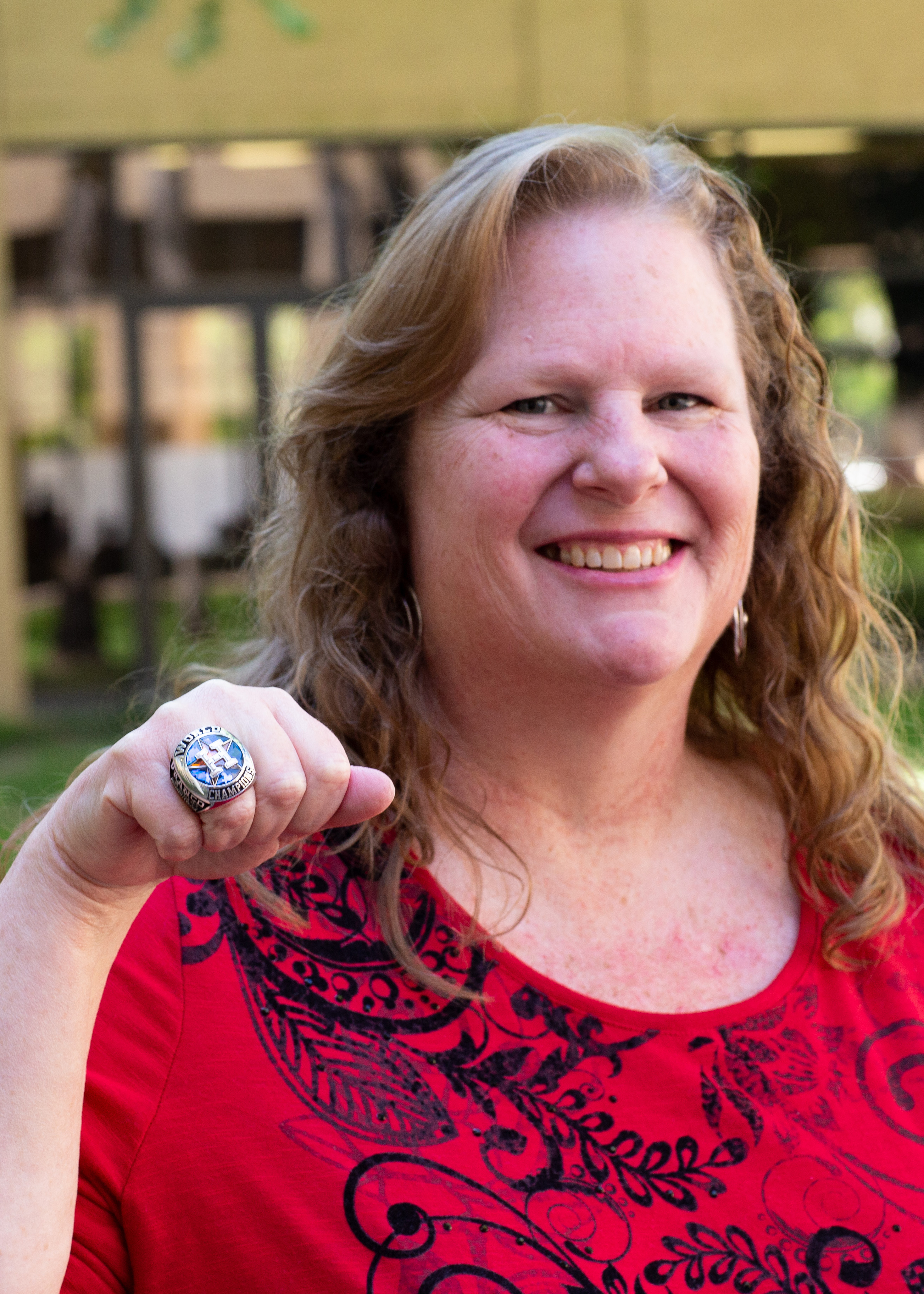 Wendy Franco is in her third season working in the Astros Will Call. Her full-time job is at a Spring Branch area school for special needs preschoolers and gifted students from 3rd-5th grades. She, like others, began moonlighting when her daughter wanted to pursue a degree out of state.
"I work with Patsy Perez at Bendwood School and she suggested working part-time for the Astros," said Wendy. "She often spoke kindly of Bill Cannon, our boss."
Patsy says the box office is a very uplifting environment. "We saw many hurting people after Harvey, and coming to the games seemed to help them forget for a few hours. Bill reminds us that we are part of very important memories that people are making with their families."
Nancy Purcell — Box Office (part-time)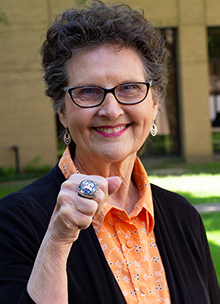 Nancy Purcell had a friend in the choir at Houston's First who also happened to be in Astros management. She got a job in the box office in 2006 and continues to enjoy her work. "Helping fans get the best seats available is definitely a high point," said Nancy.
Many out-of-towners at George R. Brown Convention Center walk the short distance to Minute Maid Park to purchase tickets. "Many from other countries share that they have never seen a baseball game," she said. "It's a delight to help them!"
Nancy says Hurricane Harvey affected five box office employees. "The Astros organization provided a lot of support to them, and the players definitely took HOUSTON STRONG to heart," she said. "It was amazing to see the fans watching the games from a home with no walls or furniture but yet they were glued to their TVs to watch their Astros."
Employees at First Presbyterian Church, Houston, where Nancy also works, have enjoyed seeing her ring up close and personal. "I think they've worn it more than I have," she said. "They take pictures of it and try it on — it is so joyful."