Grow AT Home Celebrations
Events that celebrate the impact of growth at church and in the home.
Parent Commitment (infants through 12 months)
First Grade Bible Presentation (kids entering 1st grade)
Welcome to the HUB - 5th Grade Launch (kids entering 6th grade)
Senior Celebration (graduating high school seniors)
Parent Path Classes
Growing in God's Word—Understanding Faith Through the Eyes of a Preschooler
Every Wed, Aug 25–Sep 29 @ 6:30–7:30p — Rm 336B
T Brianna Saunders
C Brianna.Saunders@HoustonsFirst.org
Just as your young child is developing physically and mentally, your child is also developing spiritually . . . and we have tools to help you make the most of that spiritual growth! We'll look at a systematic plan for teaching your child (infant through kindergartener) a foundational, biblical worldview. And the best part . . . laying a strong foundation for the spiritual growth of your child isn't hard...it just takes intentionality. Come get the tools you'll need to grow your child's faith according to God's plan. Every participant will receive a copy of LifeWay's "Growing in God's Word" booklet.
Instilling a Biblical Worldview in the Hearts of Kids
Every Wed, Aug 25–Sep 29 @ 6:30–7:30p — Rm 334B
T Bill Emeott
C Bill.Emeott@HoustonsFirst.org
Help kids navigate life in a godly, Christ-centered way by teaching them to see the world through the lens of God's Word.
Building A Biblical Worldview in your Teenager's Life
Every Wed, Aug 25–Nov 10 @ 6:30-7:30p — Rm 333
T Chad Chambers
C HUBStudents@HoustonsFirst.org
Forming a Biblical Worldview for your student may be the most important thing you can do to set them up for adulthood. We will go through the book "10 Questions Every Teen Should Ask (and Answer) about Christianity" by Rebecca McLaughlin. Topics covered: Why be a Christian, Diversity, Universal Truth, Morality, Biblical Authenticity, Science, Gender, God's Sovereignty.
Seminars and Conferences
Activate Discipleship Conference
Sat, Aug 21, 2021 @ The Loop Campus
Track devoted to Parents where you can gain valuable training and discover great resources for discipleship of your kids whether they are 3 or 16.
Grow AT Home Experiences
One-day or weekend events designed for parents to teach a value (service, purity, responsibility, etc.) in a way that is interactive and fun.
Here's our TOP Five list of how to start making disciples of your child:
Use dinner time to pray and to talk about spiritual things.
Encourage them to read their Bible (or read to them) each day and plan a weekly time to discuss what your family is learning.
Ask how you can pray for them and then do!
Encourage them to talk about their faith as part of their everyday experiences.
Fall in love with Jesus yourself and share that experience with your son or daughter.
Imago Dei – or "Image of God" refers to the creation of each human being in the likeness or "image" of God (Gen. 1:27). An understanding of Imago Dei allows us to love others and see them as God sees them. Loving our neighbor regardless of their race, nationality, language, income, political views, or any other thing that divides us is essential to living out the Christian walk in our current culture.
"He [Jesus] answered, 'Love the Lord your God with all your heart and with all your soul and with all your strength and with all your mind'; and 'Love your neighbor as yourself.'"
Luke 10:27
We believe an accurate Biblical Worldview involves teaching our kids to love others well regardless of the differences between us.
Below you will find resources for teaching your kids to love well.
More resources coming soon!
For more information about our church is doing to promote unity and loving others well, click here.
The Grow at Home app is a toolbox for parents, full of resources that focus on a specific topic for the year. Available NOW in the App Store and Play Store (search "Grow At Home").
Resources in Corner Books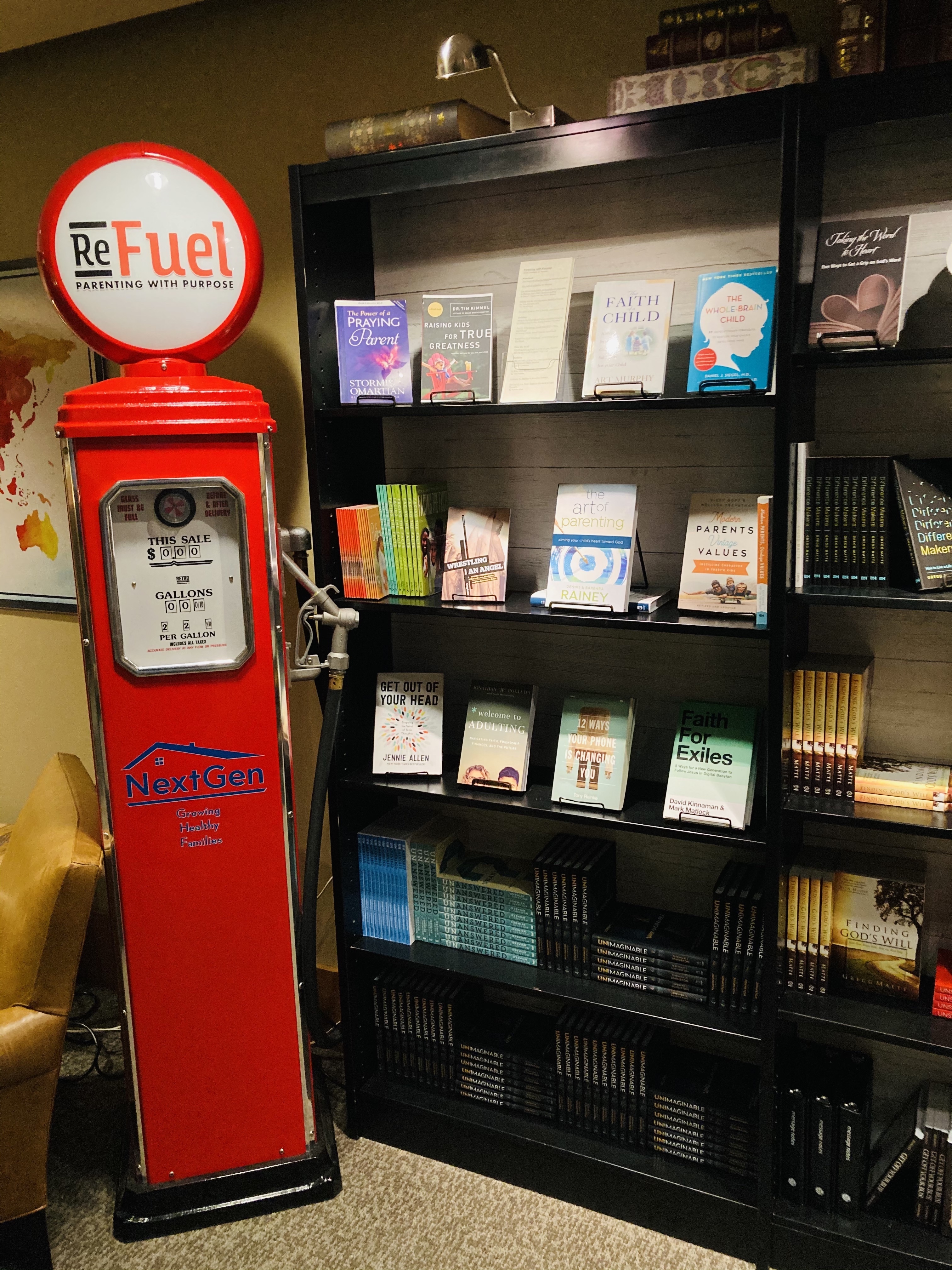 Each of our NextGen ministries have recommended resources available for you to review and purchase in Corner Books. Just look for the Gas Pump!