When drawing believers into His Kingdom, God's creativity knows no limits. In 2013, He used Celebration, the Christmas program at Houston's First, to seal the deal for Laura Kerns. Co-workers, a happenstance meeting at a dog park, and Life Bible Study opened her heart to Jesus. But at Celebration, all the pieces fell into place as she saw God's story unfold before her — and Laura's life has never been the same.
"I went to church maybe four times in my whole life," said Laura. "I really didn't know anything about church. People at work kept inviting me to come, but I always felt like I didn't belong there."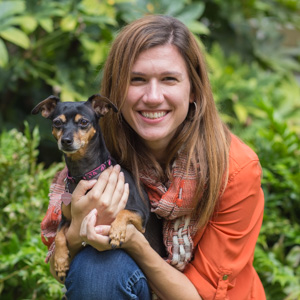 A trip to a dog park with friends (and Isabella) turned interesting when some guys they met there invited them to church and to their young single adults Life Bible Study. One of them sent them a text that evening as a reminder. "The people who invited me were really nice," said Laura. "I thought maybe they wouldn't care that I didn't belong."
A Life Bible Study opened the door to other studies and new people, including James, one of the teachers who answered her many questions when first visiting the church. "I began to learn who Jesus was," Laura said. "I learned that Christians read their Bibles every day. I began praying for the first time in my life."
Laura almost missed the opportunity to attend Celebration because she didn't get a ticket. James came to the rescue by finding one so she could attend with her class.
Celebration actors brought the Word to life and the message Laura had been reading in the Bible was being played out before her eyes. Pastor Gregg invited audience members to accept Christ as Savior and God seemed to speak to her heart, "Are you ready to give me everything?" Laura prayed along with the pastor and accepted Christ's offer of salvation. "Accepting Christ fueled a fire in me," said Laura. "I was already interested, but making that decision changed everything. I had a passion and began reading with a purpose."