First Kids Ministry serves 1st-5th graders and their families. We are a Gospel Transforming, Disciple Making, and Family Centered kids ministry


Our mission is to reach children with the transforming gospel of Jesus Christ; disciple them to conversion and on to becoming fully devoted followers of Jesus Christ; and to equip, encourage, and empower families of 1st–5th graders.
We believe that…
Only Jesus offers true transformation and hope. Therefore, everything we do is for the purpose of seeing boys and girls come to know Jesus as Savior and Lord.
Discipleship before and after conversion is essential for the successful Christian walk. Boys and girls must learn to understand and practice spiritual habits (disciplines) and boldly share and defend their faith.
Parents are the primary disciplers of their children. First Kids has the privilege of partnering with families in discipling kids.
Plan Your Visit
The children's ministry of Houston's First is so excited about seeing and connecting with our kids and their families. We continue to work hard to ensure that kids and their families are safe and protected while attending First Kids programming.
To reduce risk, unauthorized adults are not allowed inside the ministry suite. After check-in parents are encouraged to say their goodbyes at the entrance doors. Once children enter the suite, they will be directed to their assigned class. Pick-up happens at designated pick-up locations outside the suite. Parents will return the child's unique pick-up tag (received at check-in) and kids will then be matched with their family.
We offer 1 hour of programming* for older kids (grades 3-5) and 2 hours of programming** for younger kids (grades 1-2).
*1 Hour Programming (for grades 3-5) refers to one of the Life Bible Study hours (9:15, 10:45, or 6:30). After that 1 hour, kids will need to be picked up. We encourage older children to attend worship with their family during the second hour.
**2 Hour Programming (for grades 1-2) refers to LBS and the additional hour of Clubhouse Worship for Younger Kids. 1st and 2nd Grades will attend LBS at the same hour as their parents and then have the option to attend Clubhouse Worship the other hour. Kids who attend 2 hours of programming will be transferred by staff from one hour to the next.
CHECK-IN for all First Kids events is located at the southwest corner of the 3rd floor. Designated PICK-UP locations (1st & 2nd/3rd-5th) are also on the 3rd floor.
If you would like to save some time on Sunday morning, pre-register below!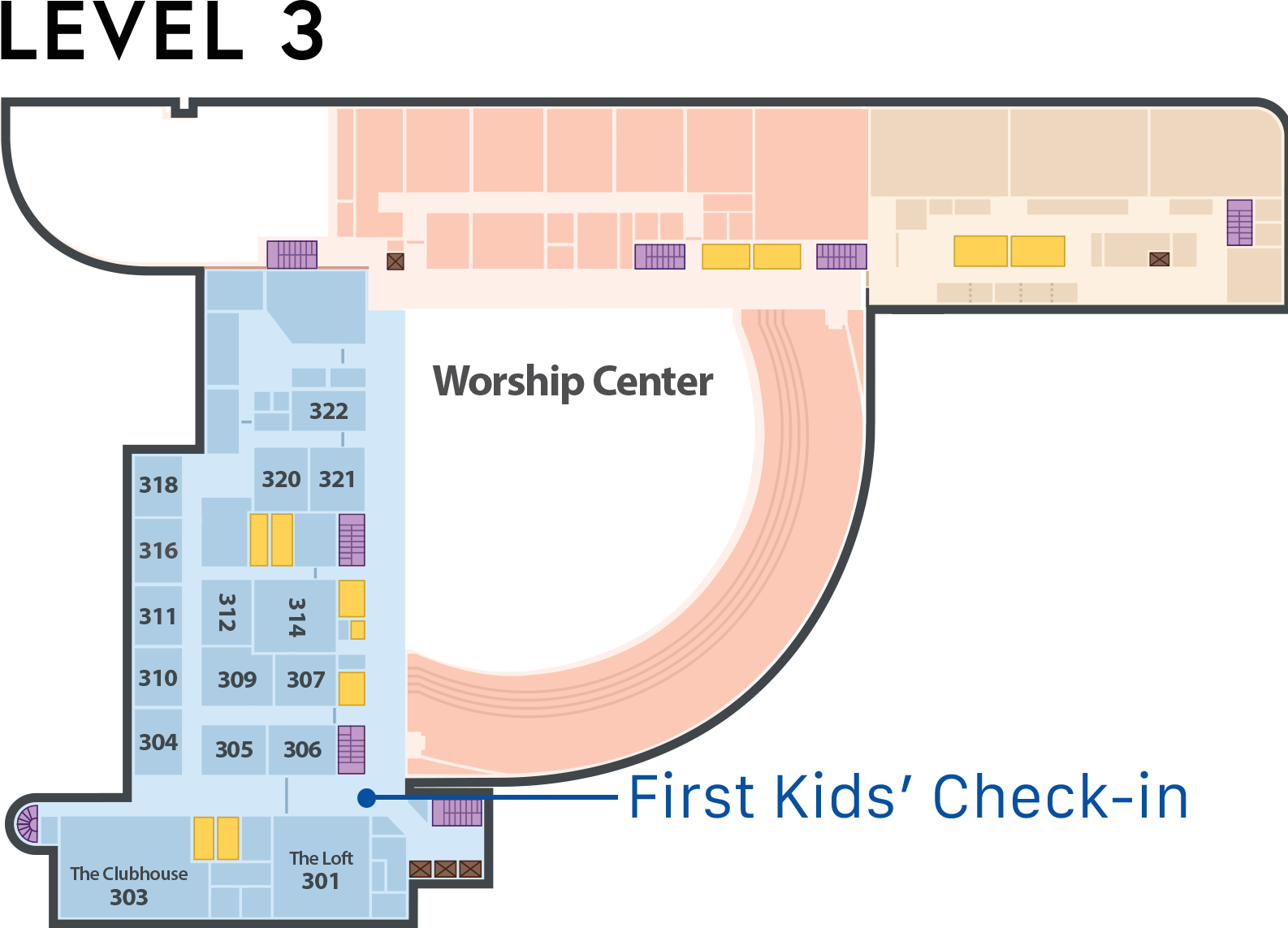 If you are visiting for the first time or have questions please visit our Welcome Desk at our check-in area during Sundays and Wednesday programming. If you have any further inquiries outside of these times please email us at First.Kids@HoustonsFirst.org.