FAQ
How are you keeping party guest's health the top priority?

We will sanitize the bowling alley, bounce house, playland, and game room touch points. All adults at the party should wear masks unless eating, drinking, or taking photos. The person maximum is still 50 people. Please practice physical distancing. Thirty minute set up time. Feel free to call our front desk team ahead of time to see about a time extension: 713.957.6710. The playland has been disinfected by a 90 day sanitizer solution. Game room / playland / bowling alley are exclusive to party guests.
Are there any policies and procedures associated with Parties at Houston's First Baptist Church?

Yes, please click on the button below to view our Parties Contract.
Where are you located?
Houston's First Baptist is located in the southwest corner of the interchange between I-10 & I-610W. The address is 7401 Katy Fwy, Houston, TX 77024. Below is a map showing the location of the FRC within the building.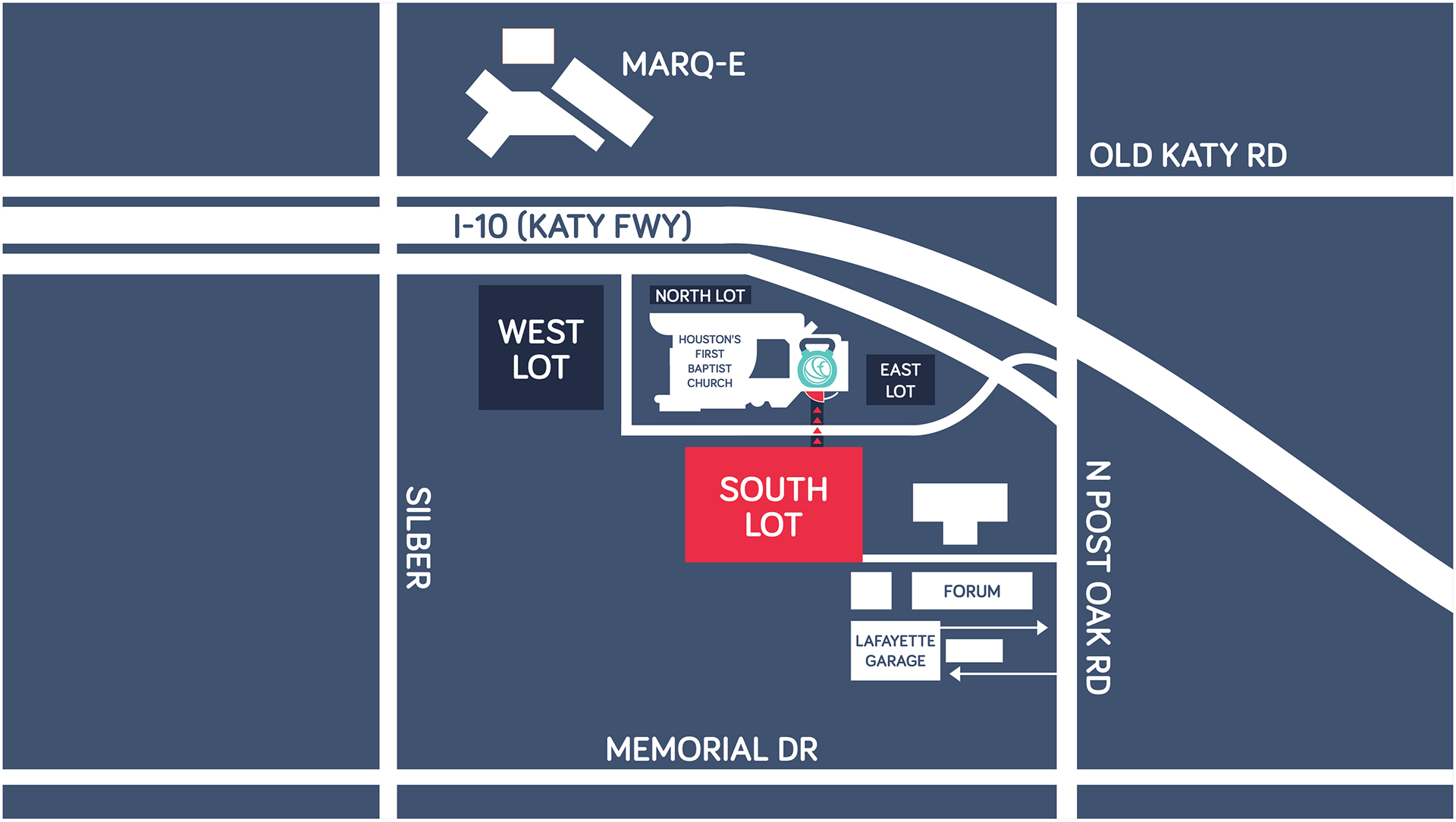 Booking a double party?

If you are booking a double party, please note you must create two separate reservations. At the end of each reservation, a payment of $50 is due - total of $100. After you have submitted both reservations, our party manager will deduct $50 from the total cost of the party.
LIMIT two party reservations per day per family. Double party bookings are based on availability of the party calendar.

Is the Reservation Fee refundable or transferable?
No. Once the reservation fee has been paid you cannot transfer it to another party date or be reimbursed for the amount if your party is cancelled.
When do I have to pay the final amount of the party package?
The balance of the party is required 30 days prior to the event, or the event will be cancelled.
Do you give reimbursements when parties are cancelled?
That depends. If the party is cancelled 30 days or more prior to the date of the party, you will receive a full reimbursement of the party package. If you cancel your event less than 30 days prior to the event, you will not be reimbursed at all. The reservation fee is required to reserve your party and is not refundable.
To cancel a party, please email Parties@HoustonsFirst.org. Please indicate the party host name, date/time of your party, and your wish to cancel.
Can I transfer the reservations or rental fee to a later date?
The reservation fee cannot be transferred, however if you change the date of your party 30 days prior you may transfer the rental fee with an additional reservation fee.
What does the Fitness & Recreation Center provide for the activities?
The Fitness & Recreation Center provides bowling balls and game equipment (pool, ping pong, air hockey, foosball, etc.). PLEASE ask all who want to bowl to wear socks and closed toed shoes. Flip flops and other open-toe shoes are prohibited in the bowling alley.
PARTY ROOM SET UP:
Included in the party room are (8) 48" round tables, (72) chairs with (6) per table, and (3) 6' x 30" tables. Please refrain from using the piano, whiteboard, and portable TV as these are for Bible Study use only.
How much set up and clean up time will I have?
Each party receives 30 minutes before the party's start time and 30 minutes after the end time. The Fitness & Recreation Center will be preparing for the next party so party attendees are not allowed to be in the party area during set up and clean up. A late fee of $50 will be charged for every 10 minutes after the party's end time if party attendees do not clear the facility. Also, there will be a fine (determined by the Fitness & Recreation Center) for any damages done to the facility.
What do I have to do to clean up?
Leave the facility as you found it. This includes: taking out what you brought in, throwing all trash in the appropriate dispensers, and returning furniture to its original location.
Could I have more information on the inflatable?
Yes! The inflatable is a regular square-shaped bounce house recommended for children 10 and under. It can be added to the Basic package for an additional $50.
What if the head count on the day of the party is more than the head count given originally?
Parties that are during regular hours cannot exceed 50 people. If there is a chance your party will be larger than that number, you should schedule an after hours party. However, babies (newborns) and grandparents that will not be participating may be excluded in the head count as long as space in the party room is available. Our goal is to serve both our Fitness & Recreation members and your party guests effectively. Parties during regular hours are limited for your benefit. Reimbursements will not be given if the party count is less than expected.
Can I bring Food and Drinks to the party?
Yes! No drugs, alcohol, or open flame. Waffle irons and griddles aren't allowed. Smoking is prohibited in the church facility. Crockpots are allowed.
Please refrain from bringing food outside of the party room. Damage to bowling or games equipment will result in a fine.
HFBC does not provide a catering option for Parties.
What are the conditions concerning entertainers, performers, and/or DJs?
Entertainers, performers, and DJs must follow the policies and procedures of Houston's First Baptist Church. All music must be family friendly and appropriate for all ages. Please notate any potential performers on your reservation. Please see Parties Contract for more details.
What are the conditions concerning decorations?
Attaching signs, banners, or posters to painted surfaces using glue, sticky tack, thumb tacks or suspending decorations from the ceiling is prohibited. Painters tape or frog tape is permitted. Decorations must be removed in a timely manner so the area can be cleaned for the next party. Placement of temporary decorations, signs, or other items must not be in violation of appropriate codes and standards (i.e. building, fire, safety, electrical) set by governing agencies, HFBC policy, or Facilities Committee Guidelines. Tables must be covered or wiped clean after food/beverage service. Please see Parties Contract for more details.