If you are looking to find out more about or donate money to WARRIORS HEART — PTSD, addiction and chemical dependency treatment for active military, veterans, and first responders — you can find them on the web at http://www.warriorsheart.com/.
We apologize for any inconvenience.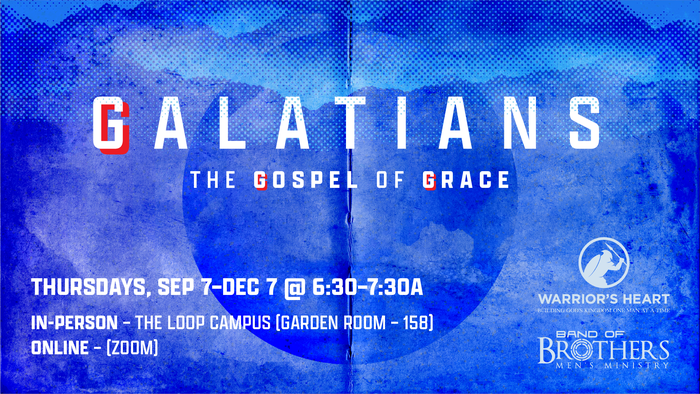 Warrior's Heart is a weekly bible study for men in the Garden Room of the Loop Campus of Houston's First Baptist Church.
Our fall study is called, "Galatians: The Gospel of Grace". It is an experiential study of Paul's letter to the church in Galatia focused on transforming the habits of our heat and life. As we journey through Galatians together, we will devote ourselves to daily Bible reading, prayer, and accountability.
Each week we will have a short teaching time followed by real conversations around tables in a relaxed atmosphere. While men are encouraged to come weekly, it is not a requirement of the study. Join us (and bring a friend if you like) and start your day off with focus and encouragement!
Join us Thursdays, Sep 7 - Dec 7 @ 6:30-7:30a either in-person in the Garden Rm (158) at The Loop Campus OR online via Zoom!
Chick-fil-A breakfast will be available starting at 6:20a for a small price.
*Warrior's Heart will NOT be meeting on Nov 23.

Details
To stay up-to-date on the class, register for email updates here.
For up-to-date information, and to engage in the Warrior's Heart community, "Like" our Facebook page.
Missed a lesson? No problem. You can listen to the lessons on our HFBC Band of Brothers Men's Ministry app. You can download the app for your device here.
---
If you are unable to attend in person, you can join us virtually. Please use the link below to join the study each week.